~~~ SOLD ~~~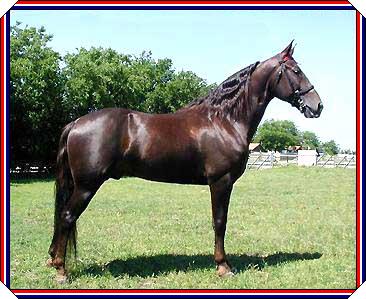 | | |
| --- | --- |
| | Delight's Gen 'N Ice is a delightful 16hh liver chestnut, with the beauty to match his temperament. He is one of the last sons of the legendary Delight's Cold Ice. |
Ice and Dodi at
the Big D Charity Show
in Dallas
He has been shown in pleasure classes. At The 1999 Celebration, he tied 4th out of 34 in plantation pleasure, 2 year old, and three year old classes, and 4th out of 15 in the 2 year old lite shod class; he tied 3 in the plantation pleasure driving.
Ice and Dodi at
the Pin Oaks Charity Show
in Houston
He has a wonderful temperament, a beautiful walk and is fun to be around.
His pedigree reads like a Who's Who of all the greatest bloodlines.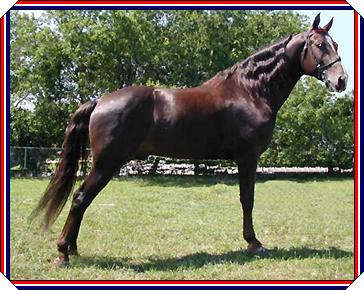 Delight's Gen and Ice showed in Farmerville, La last weekend, where he took reserve honors in the Trail Pleasure Stakes Class.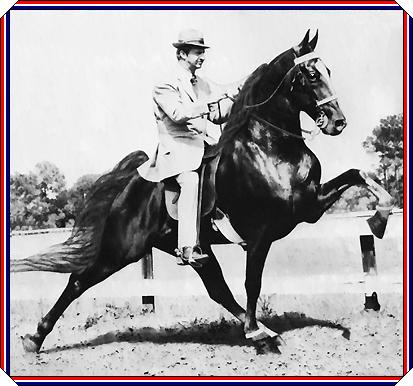 Sire of Delight's Gen N' Ice, - - the late, great Delight's Cold Ice !!
Reference Photos courtesy of The Ancestor Gallery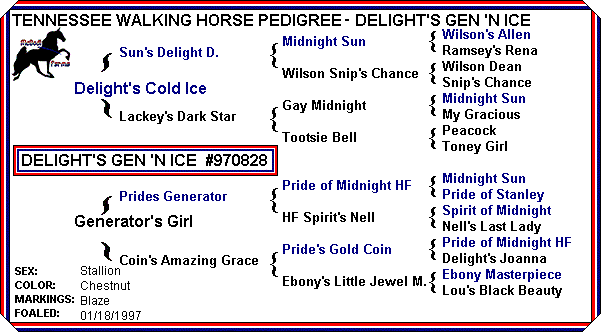 | | | |
| --- | --- | --- |
| Wednesday, May | SHOW RECORDS | Page 1 |
| 11:55:18 PM | eLineage Software | |

Registration Number: 970828 DELIGHT'S GEN 'N ICE

Class
Show
Show Date
Owner of Record
Entries
Place
Two Year Old Walking Horses

NWHTA Fiesta I

4/21/1999

Chip Dale , Margate, FL

4
1
Two Year Old Walking Horses
Northwest WHTA Fiesta II
4/30/1999
Chip Dale , Margate, FL
3
1
Two Year Old Walking Horses
West Coast Trainers Show
3/16/1999
Chip Dale , Margate, FL
1
1
Two Year Old Plantation Pleasure
1999 Celebration 61 Annual
8/26/1999
Chip Dale , Margate, FL
34
4
Two Year Old Plantation Pleasure
1999 Celebration 61 Annual
8/26/1999
Chip Dale , Margate, FL
15
4
Two Year Old Walking Horse
NWHTA Fiesta I
4/2/1999
Chip Dale , Margate, FL
4
2
Two Year Old Walking Horse
Northwest WHTA Fiesta II
4/30/1999
Chip Dale , Margate, FL
3
1
Three Year Old Plantation Pleasure
1999 Celebration 61 Annual
8/26/1999
Chip Dale , Margate, FL
33
4
Plantation Pleasure Driving
1999 Celebration 61 Annual
8/26/1999
Chip Dale , Margate, FL
12
3
Plantation Model
ETWRHA 13th Annual Charity Show

3/21/1997

Deloney, Jack
99
8
Last Updated: December 27, 2016