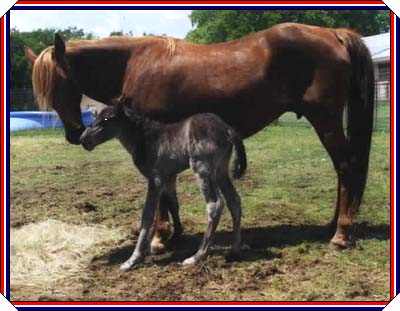 Slightly Scarlet, aka Barbie, is a royally-bred, talented, beautiful broodmare. She was shown as a two year old and was top notch, but had an injury and was sidelined to the broodmare ranks.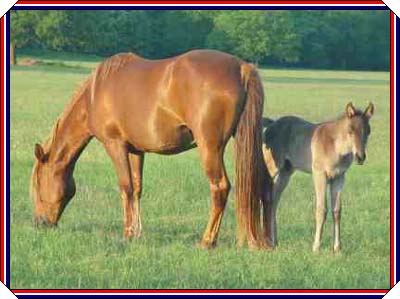 We call her Barbie because with her thick forelock and beautiful flowing mane she looks like a Barbie doll horse. Her first foal, I'm Scarlett Walker, is one of our most talented horses. Scarlett is what our trainer calls a once in a lifetime horse.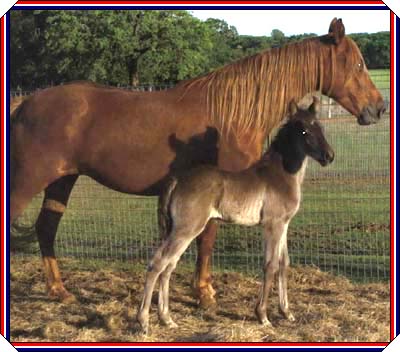 Slightly Scarlet's foals will be for sale. She had her baby today, April 26th/2004. Sired by I'm Dumas Walker, he is a full brother to I'm Scarlett Walker.

Pride of Dumas, a new stud colt was born April 24, 2005 to Slightly Scarlett by I'm Dumas Walker (we are still in the process of thinking up a good name to match the talent he is going to have). Barbie as we call him dam, has thrown exceptional foals; I'm Scarlett Walker, Scarlett Walker, Dose of Doc, and Delightfully Dumas. I am expecting no less from this fella. He will be black, with a crescent star. I have a feeling he will have some size to him.
PROGENY
Reference Photos courtesy of The Ancestor Gallery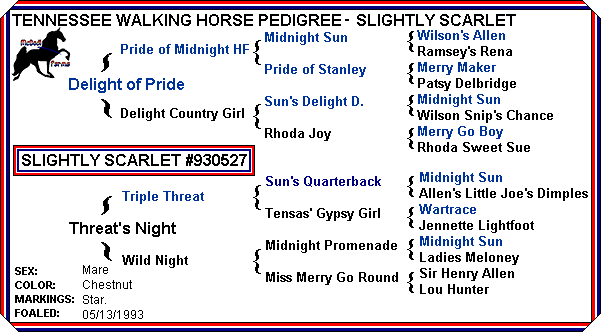 Priced at $3500.
For more information, please contact McDodi Farms.



Last Updated: December 27, 2016