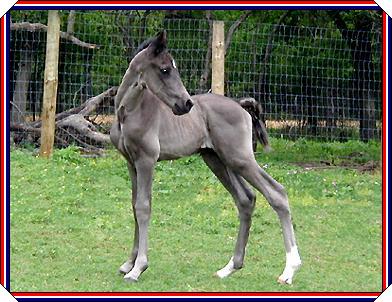 Coin's Lady Love had a stud colt by Black Vengeance. He is the best yet ! Black, with a star, and cute as a button.
To see more photos of Vengeance's Gold Coin, please click on a

thumbnail below

.
Vengeance's Gold Coin and Royal Vengeance.
This is his sire, Black Vengeance.
BLACK VENGEANCE
----- Original Message -----
Sent: Tuesday, June 18, 2002 8:35 PM
Subject: Sad News

This came in from Walt Chism today: It is with deep sorrow that we announce the death of our beloved TWH Black Vengeance today at the UT Vet Clinic in Knoxville.

----- Original Message -----
Sent: Thursday, May 15, 2003 9:07 AM
Subject: Vengeance Gold Coin

We had to have Vengeance Gold Coin put down this morning. He had injured his spine 3 months ago and we have been trying to give him a chance to recover from it since. He laid down yesterday and would not get up. We felt that we had no choice but to have him euthanized this morning. Dodi
Reference Photos courtesy of The Ancestor Gallery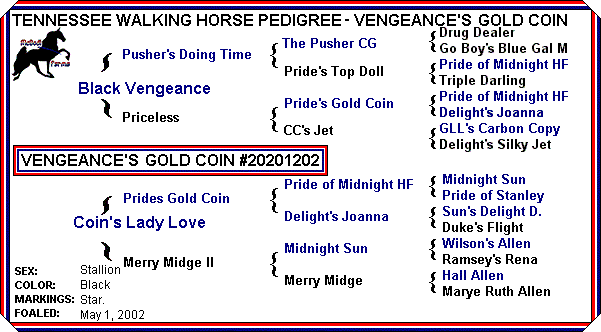 For more information, please contact McDodi Farms.


Last Updated: December 27, 2016